Members of the Association take part in various events each year.  Please come and join us at this year's events.
At last, the restrictions surrounding the COVID-19 Pandemic, have decreased and many events are starting to get back on track. Please check back for more updates .
Please continue to take reasonable care when attending any event.
The dedication ceremony of the Civil Defence Memorial Grove at the National Memorial Arboretum.  It was held on the 16th June 2001 and was unveiled by Sir Donald Thompson, Director General of the Friends of War Memorials, (now the War Memorials Trust).
Bethnal Green – Annual Commemoration
CDA Annual General Meeting
Toby Carvery, Coventry Rd, Marston Green, Coventry CV7 7HL
CDA Annual Commemoration
Service starts at 1pm in the Chapel followed by wreath laying at the memorials.
National Memorial Arboretum, Croxall Rd, Alrewas, Burton-on-Trent DE13 7AR
Field of Remembrance at Westminster Abbey
20 Deans Yd, Westminster, London SW1P 3PA
Remembrance Sunday
(Nationally)
Please check local press for your nearest parade.
   Civil Defence Day
(Nationally)
Civil Defence Day – 15th December 1942:  At the South Door of St. Paul's Cathedral.  The March Past of representatives of all Civil Defence Services. (Civil Defence Day to be celebrated on the nearest Saturday to the 15th December.)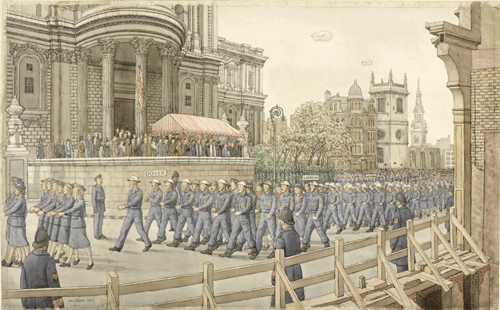 With acknowledgement to the Imperial War Museum Collection.  Watercolour painting by William Lionel Clause, 1942.