Recipients of the George Cross
"It is ordained that the Cross shall be awarded only for acts of the greatest heroism or of the most conspicuous courage in circumstances of extreme danger."
Royal Warrant, 24 September 1940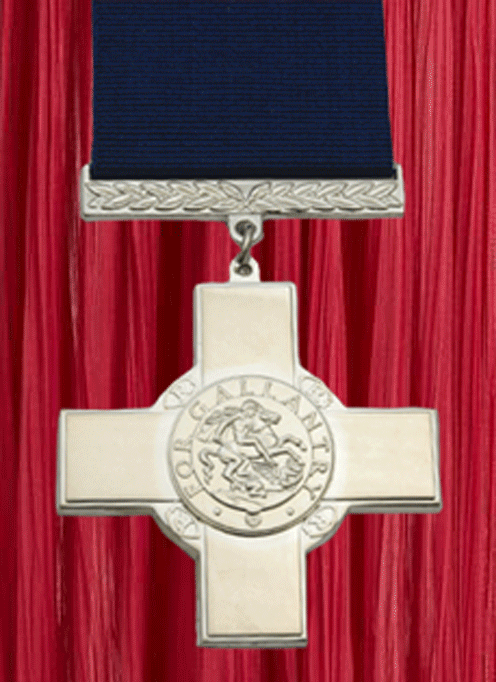 "The roles of the 11 Civil Defenders featured included civilian Bomb Disposal, ARP Warden, Heavy and Light Rescue and the Fire Services. They set the standard and demonstrated that the tradition of service was already well entrenched."
CDA President, Sir Graham Meldrum CBE QFSM FIFireE
The George Cross is the highest civilian gallantry award.  People are well aware that this decoration is only awarded for exceptional bravery. The very mention of the George Cross inspires the question: "What did the person do to warrant such a high award?" People want to hear the story behind the award as they know they will learn about actions that reflect the very best of humanity.
Detachment Leader Thomas Hopper ALDERSON GC, ARP
"For sustained gallantry, enterprise and devotion to duty during enemy air raids."
On three occasions, he rescued trapped people in Bridlington, East Yorkshire in 1940.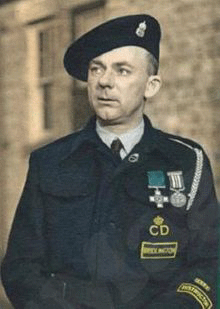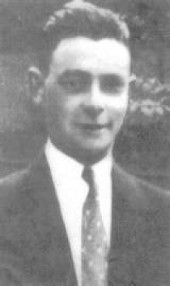 Fireman Frederick DAVIES GC, National Fire Service
"With complete disregard of his own safety he made a most heroic attempt to rescue the two children."
During a house fire in Neasden, NW London in August 1945, he attempted to rescue two trapped children, but sadly lost his life in doing so.
Fireman Harry ERRINGTON GC, Auxiliary Fire Service
"He showed great bravery and endurance in effecting the rescues, at the risk of his own life."

During a bombing raid in September 1940, he rescued two trapped colleagues from a fire in Westminster, London.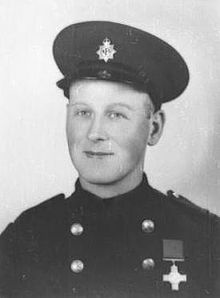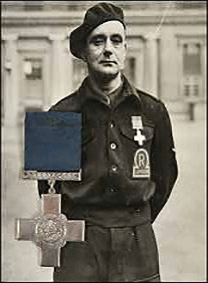 Deputy Party Leader Leslie Owen FOX GC, Heavy Rescue Service
"Fox performed his duty in a most gallant and determined manner." 
After a bombing raid in Fulham in 1944, he rescued a trapped man in a collapsed house
Staff Officer Roy Thomas HARRIS GC, ARP Engineers Service
"For conspicuous bravery in carrying out dangerous duties."
For Bomb disposal work in Thornton Heath, Surrey in 1940.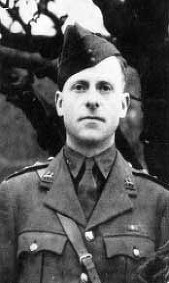 Section Leader (Albert) Edward HEMING GC, Civil Defence Light Rescue Service
"Heming refused to abandon the victim and, with great gallantry and determination, successfully accomplished a task seemingly beyond human endurance."
Rescued a priest from a bombed church in Bermondsey, London, March 1945.
Dr Arthur Douglas MERRIMAN GC, Ministry of Supply
"For conspicuous bravery in connection with bomb disposal."
In 1940 he undertook bomb disposal duties in the Directorate of Scientific Research.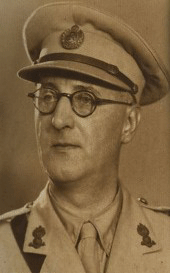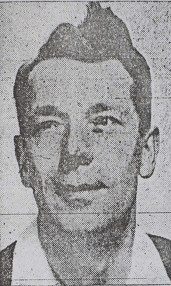 Warden Leonard James MILES GC, ARP
"Warden Miles showed magnificent courage and devotion to duty."
He left the safety of his own shelter to warn others of the danger of an unexploded bomb in Ilford, Essex in September 1940.
Rt Hon. Charles Henry George HOWARD GC, Ministry of Supply (The 20th Earl of Suffolk & 13th Earl of Berkshire)
"For conspicuous bravery"
Working as a Research Officer in Bomb disposal, he undertook valuable work in recording new detail on German bombs. Sadly, he lost his life studying a bomb in Erith Marshes, Kent in May 1941.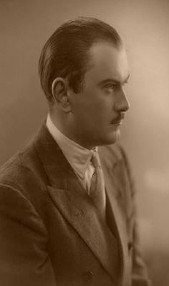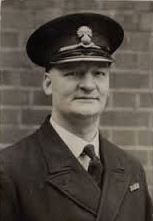 Station Officer William Radenhurst MOSEDALE GC, Birmingham Fire Brigade
"In effecting the rescues, he repeatedly risked his own life."
Rescued firemen from a Bomb-damaged fire station in Birmingham, December 1940.
Mr Anthony "Tony" SMITH GC, Civil Defence Heavy Rescue Service
"Smith displayed outstanding gallantry and devotion to duty in conditions of the utmost danger and difficulty."
In February 1944, he was involved in two separate rescues in bomb damaged houses in Chelsea, London.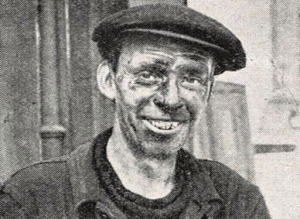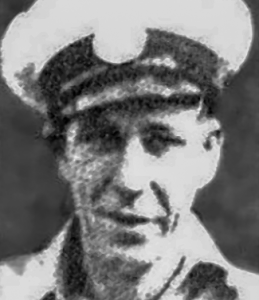 Sub-Officer George Campbell Henderson GC, Gibraltar Dock Yard Fire Service
"Displayed courage of the highest order in face of almost certain death"
On the 20th November 1951, whilst fighting a fire aboard a lighter moored against the naval armament vessel "Bedenham", Henderson remained at his place of duty alone doing what he could to prevent the explosion although he must have known his chance of survival was slight.
(For details of where to purchase the books, please see our 'Resource' page.)
'Come if ye Dare' is the title of a book published by The Civil Defence Association.  The book features the stories of  each gallant act of the 11 brave World War 2 Civil Defenders who were awarded the George Cross. It has been written by CDA member Terry Hissey and is based on his research at The National Archives at Kew, museums, libraries and archives in several parts of the country, as well as receiving support from relatives of many of the recipients.
The title 'Come if ye Dare' was chosen not least because it is also the title of The March of the Civil Defence Services which was rediscovered by the author in 2005.
The Foreword for the book has been written by Mr Jim Beaton GC CVO JP, Chairman, VC & GC Association. In it he wrote of the volunteers who staffed the WWII Civil Defence Services:
"Their professionalism, dedication and sheer courage is a perfect illustration of how, when called upon, these people and many others gave of their best and beyond".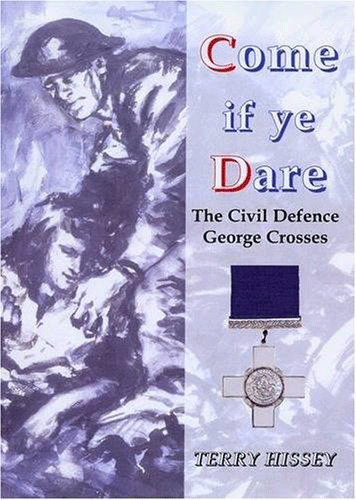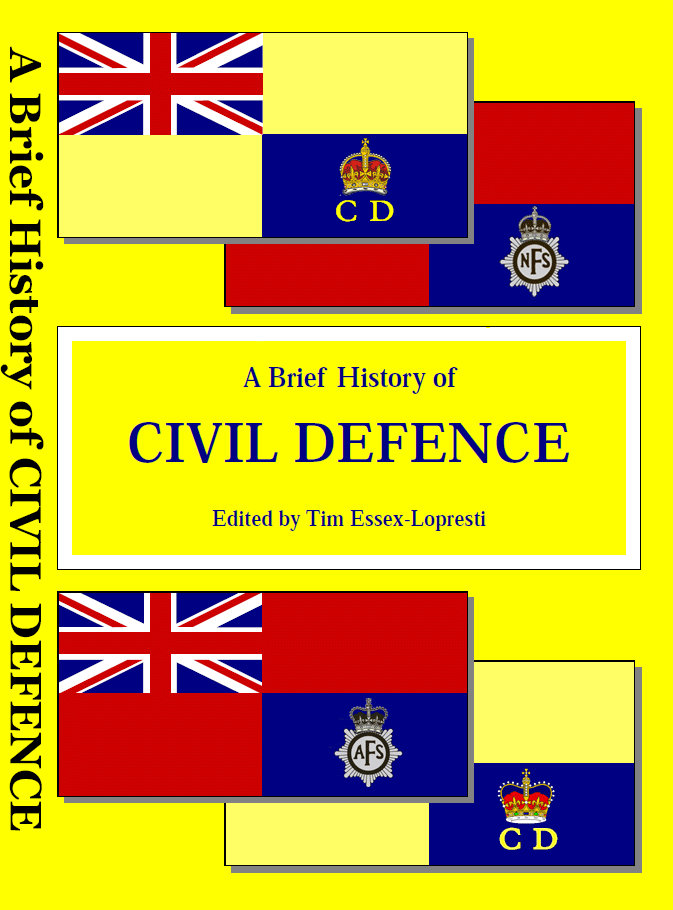 This is the 3rd book published by the CDA, the first being A Brief History of Civil Defence in 2005 and the second, a Book of Remembrance for the Bethnal Green 1943 Tube Disaster 'Stairway to Heaven' Memorial Trust. It is part of the programme to make the subject better known.
The 4th book, 'GC on the Rock' commemorates the story behind the heroism of a quiet Aberdonian man who fought an horrific blaze aboard the naval armament carrier, the FRA Bedenham in the port of Gibraltar.  George Henderson GC, an ex-soldier of the Gordon Highlander Regiment was amongst 13 lives lost during the fires and explosions aboard FRA Bedenham, and this book describes his courage and tenacity in the face of imminent death.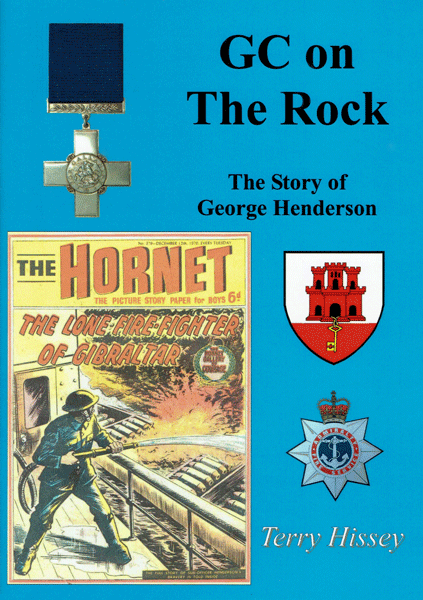 The author, CDA member Terry Hissey, was born in Harrow, Middlesex, and has lived there all his life.  He is a graduate of Brunel University where he studied Music and History.  Terry has been interested in social history since his late teens when he became involved with voluntary archive work.  A lifelong interest in gallantry awards and more recently the George Cross has led to the writing the 'Come if ye Dare' book.