Yesterday, Today and Tomorrow
The Civil Defence Memorial Grove is situated at the National Memorial Arboretum, Alrewas, Staffordshire and was the first national memorial to record the work and sacrifice of World War Two Civil Defenders. Also included is the service of members of the Civil Defence Corps, Auxiliary Fire Service and others during the Cold War, plus the animals who served alongside them during both periods.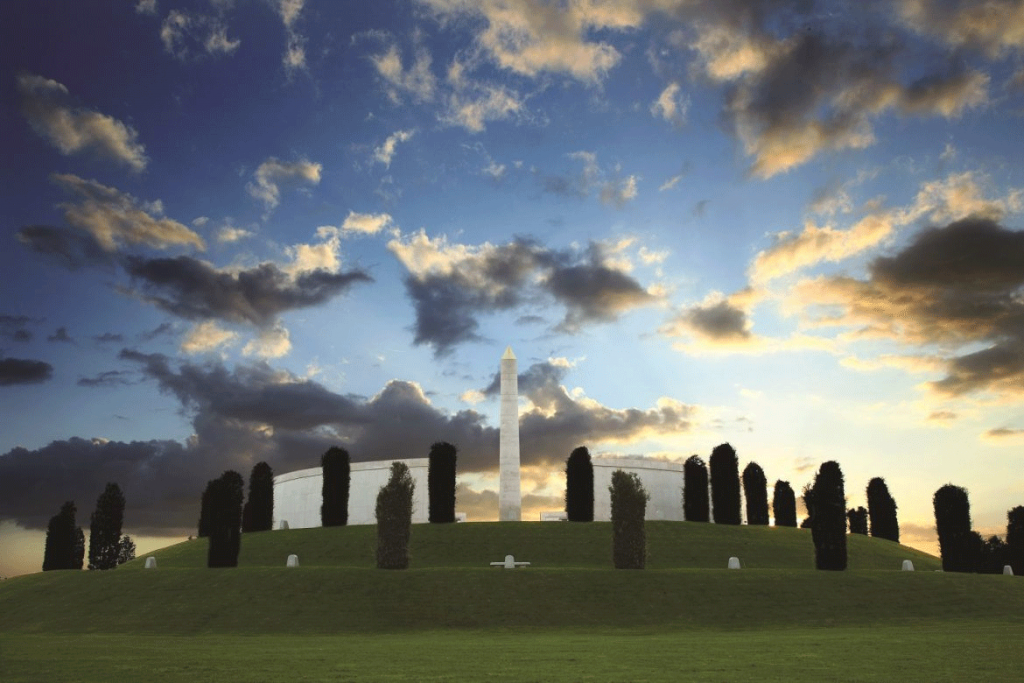 The National Memorial Arboretum, Croxall Rd, Alrewas, Burton-on-Trent DE13 7AR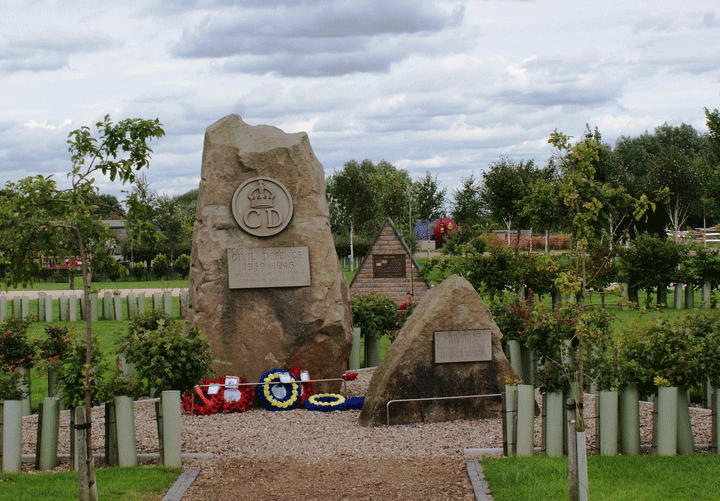 The Civil Defence Memorials for those who served 1939-1945.
The initiative for this Memorial came from the East Midlands Branch of the Institute of Civil Defence & Disaster Studies, led by Patrick Stanton, Chairman and a small dedicated team.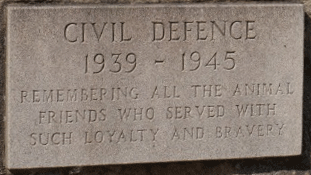 The Memorial stone is a 12-ton piece of Derbyshire gritstone. The 'dog' stone adjacent to it weighs 2 tons. The overall design reflects the International Civil Defence badge surrounded by a circle of Red Mallus with shrubs in the corners in the CD colours of Blue and Gold.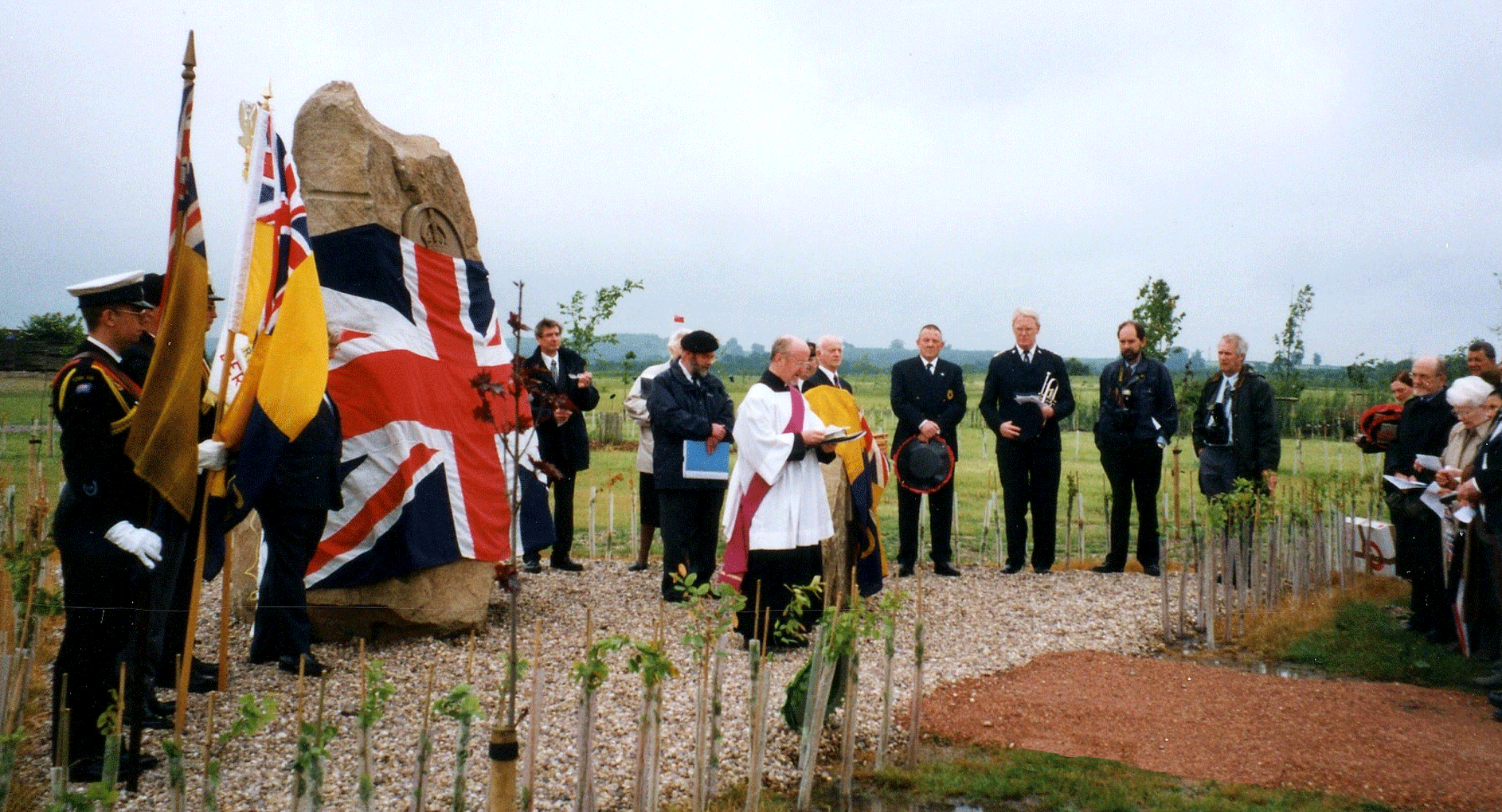 The Dedication Ceremony, 16th June 2001.
The dedication ceremony was held on 16 June 2001 with the unveiling by Sir Donald Thompson, Director General of the Friends of War Memorials, (now the War Memorials Trust). A seat was installed in memory of Charles De Val who founded the East Midlands Branch ICDDS. Trees were also planted in memory of Mr. Justice Shanley of Dublin and Captain Herbert 'Richard' Westmacott MC SAS. Both were involved in Civil Protection in Ireland. A Book of Remembrance was lodged in the Millennium Chapel containing details of the 5,771 then known WW2 Civil Defence casualties. A second updated edition was lodged on 17 May 2008 by HRH The Duke of Gloucester.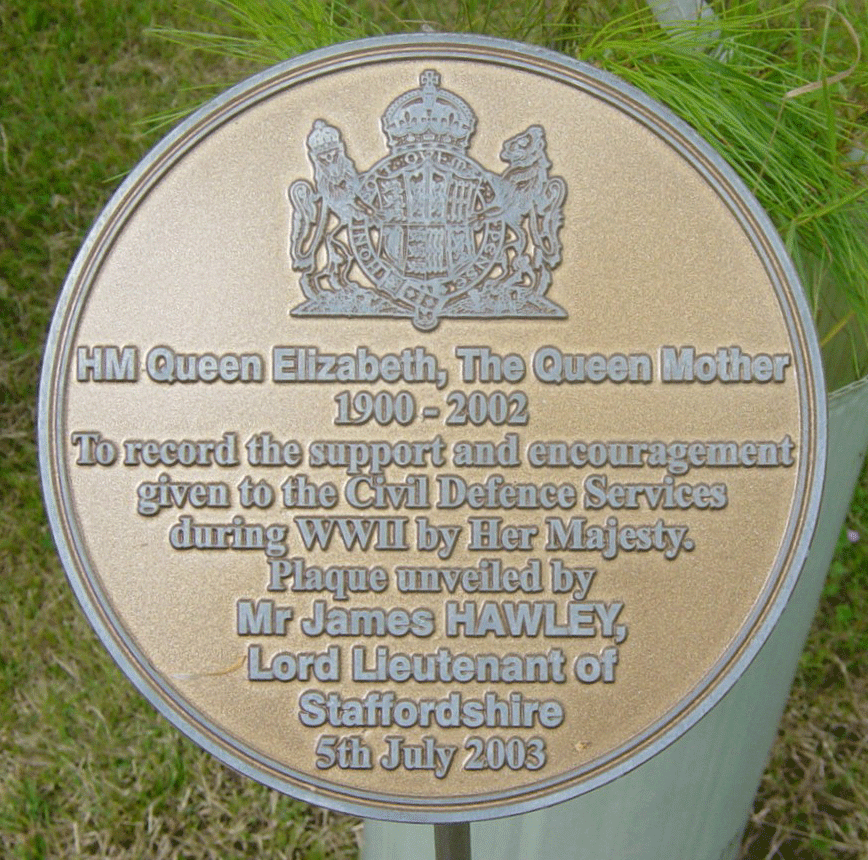 At a joint CDA/ICDDS event held on 5 July 2003, Her Majesty's Lord Lieutenant of Staffordshire, Mr James Hawley TD, unveiled a plaque alongside a Scots Pine tree to record the support and encouragement given to the Civil Defence Services during WW2 by Her Majesty Queen Elizabeth, the Queen Mother. He also presented the Civil Defence Association with its first Standard, made by a group of volunteer embroiderers from Matlock, Derbyshire.
On 11 July 2002 tree plaques were erected in memory of Sir John Hodsoll, often referred to as the 'Father of Civil Defence', and Jim Hunt and Holly Cartwright both of whom had served Civil Defence in Birmingham during the whole of WW2 and the Corps until it was disbanded in 1968.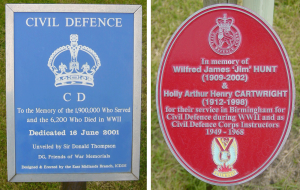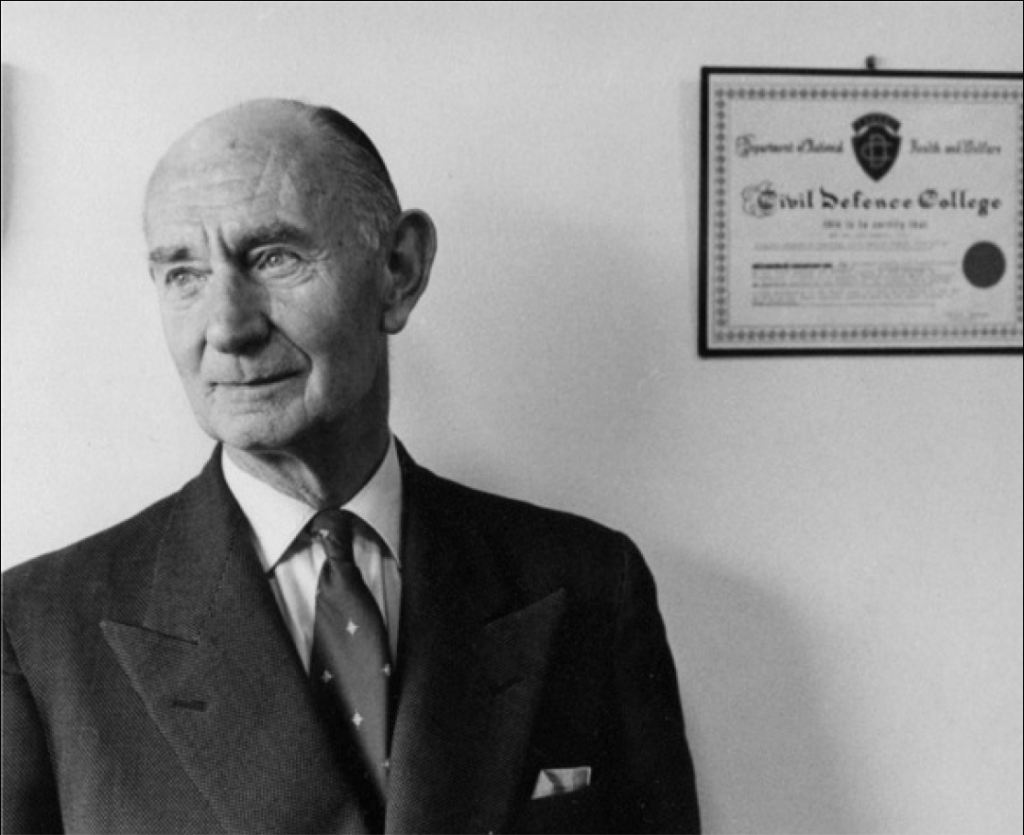 Sir John Hodsoll, the 'Father of Civil Defence'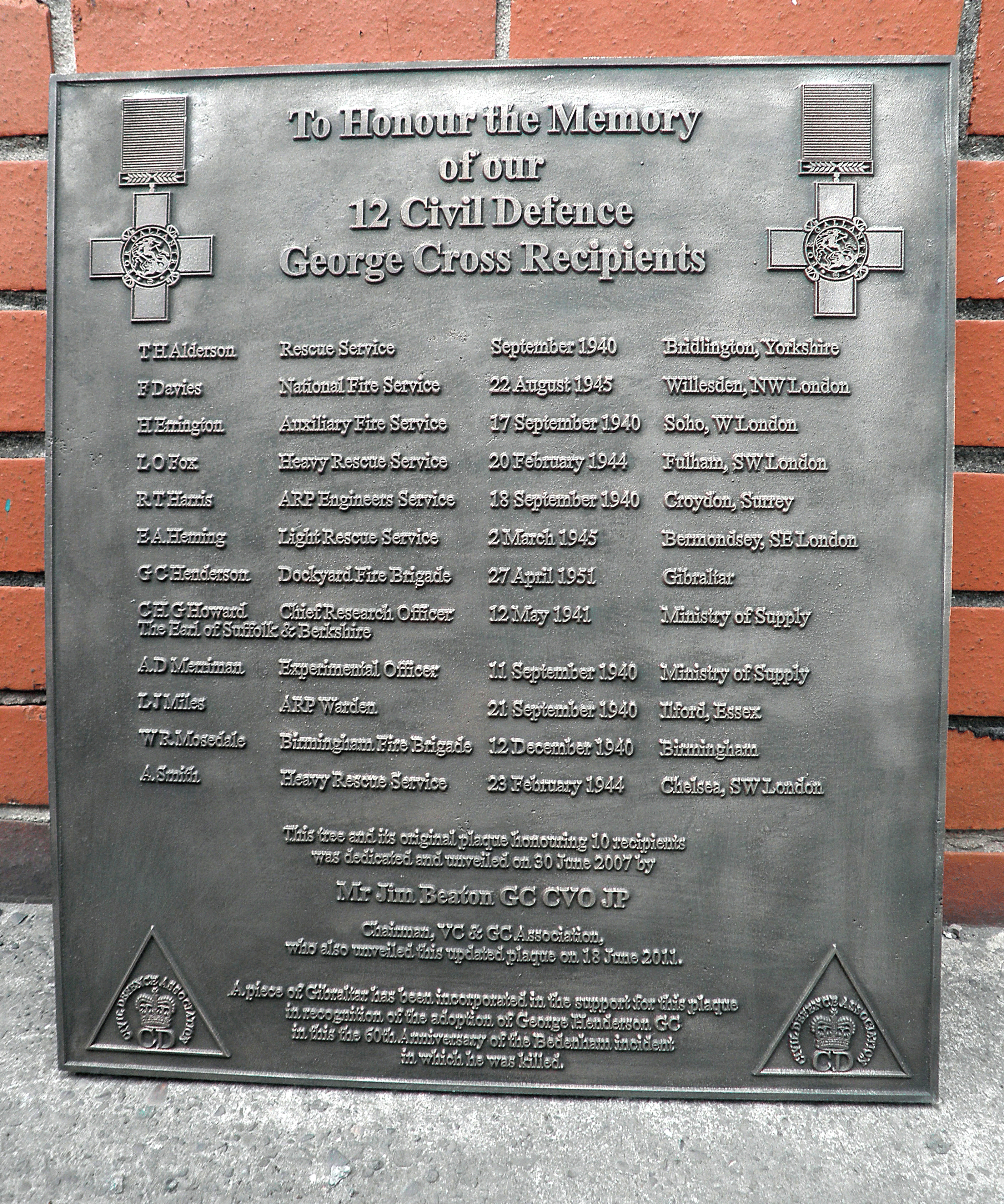 The Memorial Plaque to commemorate the George Cross recipients.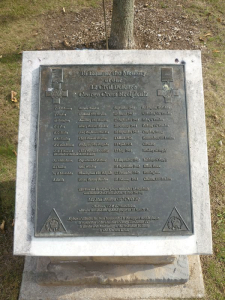 The Bedenham Memorial, Gibraltar.
The Bedenham memorial remembers the fateful explosion of the Royal Fleet Auxiliary ship, Bedenham, that arrived in Gibraltar carrying armaments on 24 April 1951.  The explosion on 27th April killed 13 people, including Sub-Officer George C Henderson, whose courage on the day saw him being awarded a posthumous George Cross.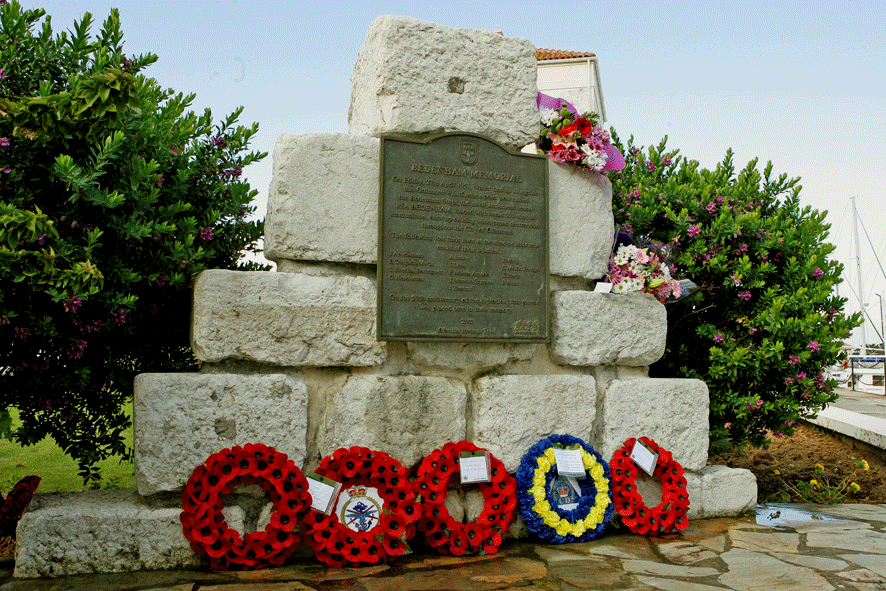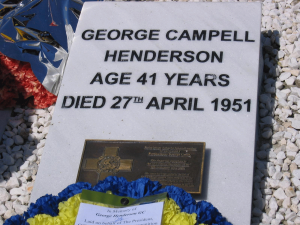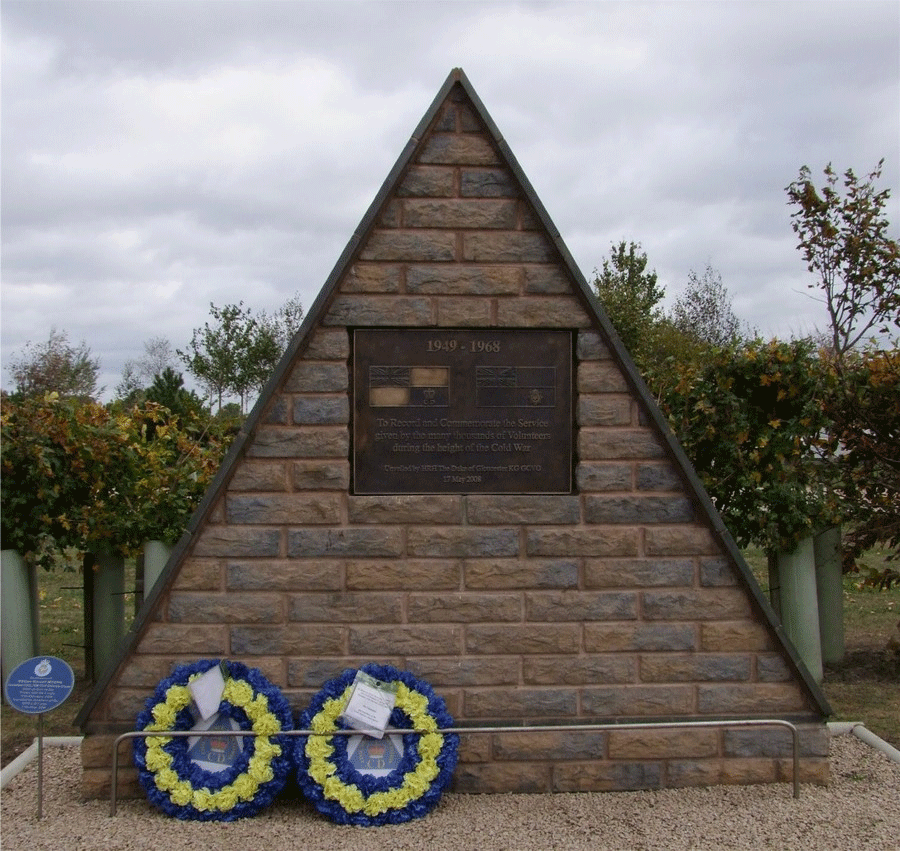 The Civil Defence Cold War Memorial.